Ref:
Date:
Location:
Photographer:
[clikcontent type=paymentBuyLink replaceable=true]
Ref:
Date:
Location:
Photographer:
[clikcontent type=paymentBuyLink replaceable=true]
Crisis - by Tasos Nyfadopoulos (Greece) - Details
This public sculpture is made of innovative materials such as carbon fiber, fiberglass, epoxy resin.
Size : 6.8m long, 3.4m wide and 3.8m high. 2011 to 2015.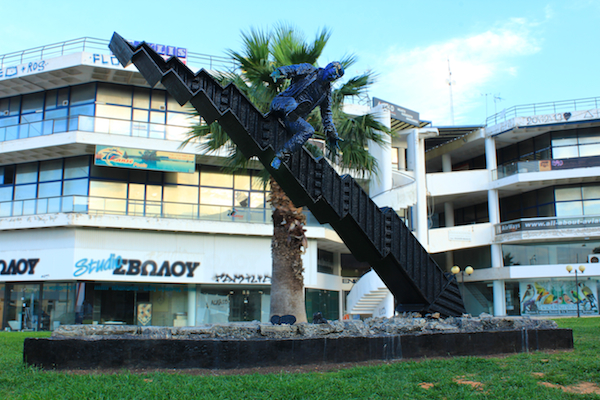 Tasos : "This is the first public sculpture addressing the consequences of the global financial crisis which began in 2007-8. It is placed on Vouliagmenis Avenue in Athens, Greece. It consists of a graph line sloping downwards, which crashes into the ground, as well as a man sitting (or about to fall) with his body leaning forward, and his facial features really tense. The man is missing one shoe, while two other shoes lie on the ground below. The mystery of the three shoes, as well as other symbolisms of the sculpture invite the viewer to decode them and take part in it by analyzing them.
The sculpture is an attempt to capture the collective memory and cry of society against the socio-economic crisis caused by 'Casino Capitalism'. The sculpture portrays a vivid image, a strong symbol of the impact of the crisis on society and people. Its main objective is to present in the most vivid and imminent manner the consequences of the crisis, focusing mainly on man's suffering and expresses the way he lives through it with a view to portraying its multidimensional human character.
The main purpose of the sculpture is to convey to all of us an eternal message, that as crises have occurred throughout history, we are obliged to learn from our mistakes in order to prevent them in the future, keeping always in mind the dramatic consequences of crises on people and society.
Tasos conceived the idea in 2011 for creating a sculpture addressing the crisis. His intention was to donate the sculpture to the Greek state so that it would be publicly accessible. However, finding a municipality (local authority) to accept his proposal proved to be a time-consuming and challenging task. For three years the municipalities were rejecting him because they didn't want to have a sculpture about the crisis. Eventually the municipality of Hellenikon-Argyroupolis accepted the donation of the sculpture. Tasos worked for 18 months constructing the sculpture and its unveiling took place on 26 April 2015."